Over-Fifty Active Lifestyle Advice, Stories And Tips
Fiftysense.com is a website dedicated to assisting us Baby Boomers and beyond in finding the latest information on getting the most out of life for active seniors at any age. Our focus is in the fields of human powered Outdoor Activities and Adventure Travel, including Geo-caching, but we encourage people with experience in areas such as health, aging, humor, to share their advice and stories on any topic.

This is a site of Boomers, by Boomers and for Boomers. We want everyone to understand that it's never too late to try something new. We know you are not just senior citizens sitting on the front porch swing, but active seniors. Wait, are there even front porches anymore?

We welcome you to join our community on Facebook, fiftysense.com, and share your ideas and feelings about what you read here and your own experiences. We strongly encourage you to submit your stories, so "Email Us your fifty sense!".
---
Sue's Column Sense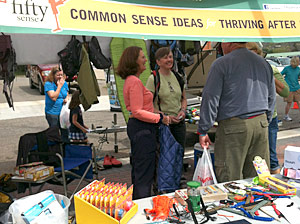 Trail Days
Damascus, Va
May 25, 2013
We just got back from Trail Days in Damascus, Virginia May 17-19. People ask us why we are willing to travel over 1600 miles to have a booth there to tell people about Fiftysense.com. It is so much more than just promoting us.... Read the full article
Two old gals on the John Muir Trail

My friend and I had both attempted a thru-hike of the JMT before. ... Mid-August we headed out as partners determined to make it to the summit of Mt. Whitney...

Read the story
Email Us your humor, stories and reviews!