GENERAL RESOURCES - Book Reviews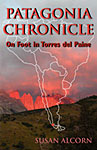 Patagonia Chronicle
By Susan Alcorn
http://www.backpack45.com/
Anyone who has the itch to explore foreign lands and backpack in unusual places faces many questions, what will the trek be like, can we do it, how should we plan the trip? Susan Alcorn has written a remarkable book that not only got us wanting to trek in Patagonia, but gave us all the information to make this dream a reality.
The first half of the book is a compilation of her journal when she and her husband did the Torres del Paine in 2009 and 2010 when she was in her late 60's and her husband, Ralph in his early 70's. The chronicle was over two years (you have to read the book to find out why.) We felt like we were walking in their steps enjoying their pleasure and enduring their pain. The side trips and times in the cities are an important part of any adventure, which many forget to allow time for. Their book shows the importance of a well-rounded adventure.
The second half of the book gives you all the details to plan your own trip. Much of the information is directed toward this trip, but can be used in planning any long distance hike. Appendix #1 is "Preparing for the extended trip," which can be a great resource for any trip. After reading this book, we wish we could pack our bags tomorrow!
...Fiftysense Product Review Panel