GENERAL RESOURCES - Book Reviews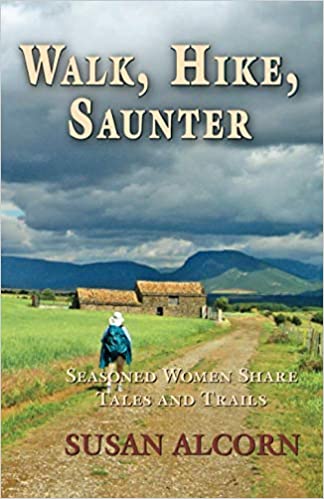 Walk, Hike, Saunter: Seasoned Women Share Tales and Trails
by Susan Alcorn
Amazon.com
If sometimes you get discouraged by getting older, this is definitely the book to read! Susan has compiled stories about 32 women over the age of 45 who are still out there exploring the great outdoors. At 74, I happen to be one of the women interviewed and cannot be more thrilled to be included with these amazing women. Although I have slowed down, choosing shorter, less challenging backpacking trips, I'm still having a great time!
Each story, like each woman is unique in not only what they have accomplished but also the challenges they have had to overcome not only in getting older, but also dealing with the restrictions of covid. It can be as small as with me having to wait two years to celebrate my 50th Anniversary, to dealing with cancer and everything in between.
Susan knows what she is talking about, being over 80 and still hiking and backpacking, so she is an excellent interviewer. A seasoned writer, she has the skills to make each story a joy to read. I love reading a few stories at a time and rereading the ones that really inspire me. With such a diverse group of women, I imagine every reader has a different favorite.
...Fiftysense Product Review Panel